Homemade Micellar Water for a Gentle Skin Cleanse
4 min read
This post is sponsored by NOW. All opinions are my own.
This year, I made it a mission to laissez-faire my beauty routine. No more complicated cleansing rituals or fancy snail-goo serums for me, thanks. Why complicate things when all you really need is a bottle of homemade micellar water, some facial oil, and the occasional date with an ice roller?
Homemade micellar water is a magic skin elixir that works just as well as the expensive stuff at half the price. We teamed up with NOW® to use all sorts of skin-soothing ingredients, like rose water, aloe vera, and argan oil, to nourish and hydrate at the same time.
Read on for the recipe to make the perfect DIY micellar water. It sweeps away dirt and makeup in one rinseless step — and it's gentle enough to use around the eyes!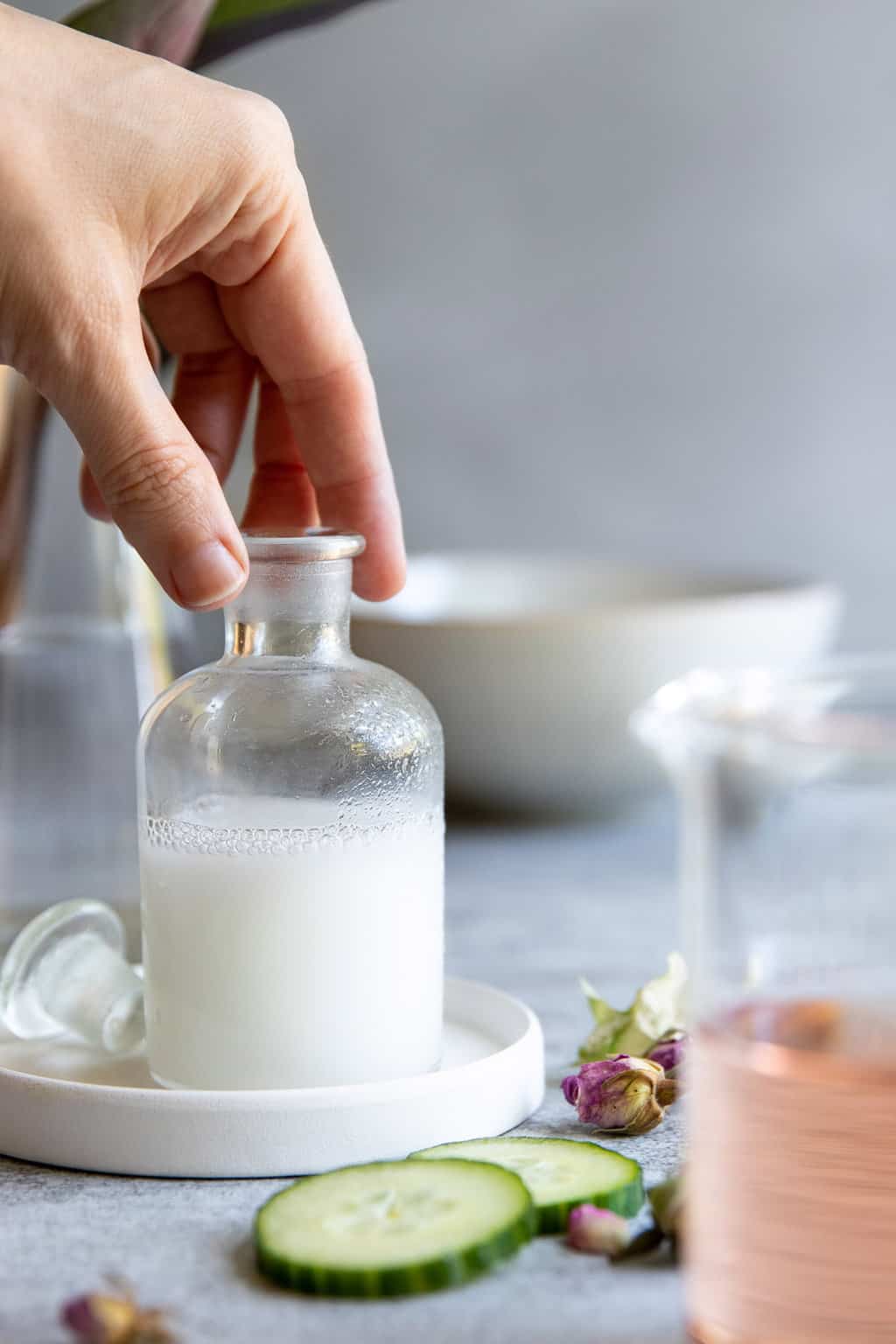 What is Micellar Water
?
Micellar water is a cleansing water often used to clean, tone, and moisturize skin in one fell swoop. The secret to micellar water's magical abilities is something called micelles, small particles that attract dirt and makeup without stripping away moisture or irritating skin.
Just one or two passes with a cotton ball is all you need to remove grime from the day. And with simple ingredients, this minimalist micellar water is gentle enough to use on dry, sensitive, and acne-prone skin.
Even though they sound fancy, micelles aren't really hard to find. They're actually small clusters of surfactants diluted in a large amount of water. Lucky for you, that means you can make your own micellar water with nothing more than water and a bit of Castile soap.
But since my skin is both dry and sensitive, I added extra ingredients to make my homemade micellar water a one-stop shop.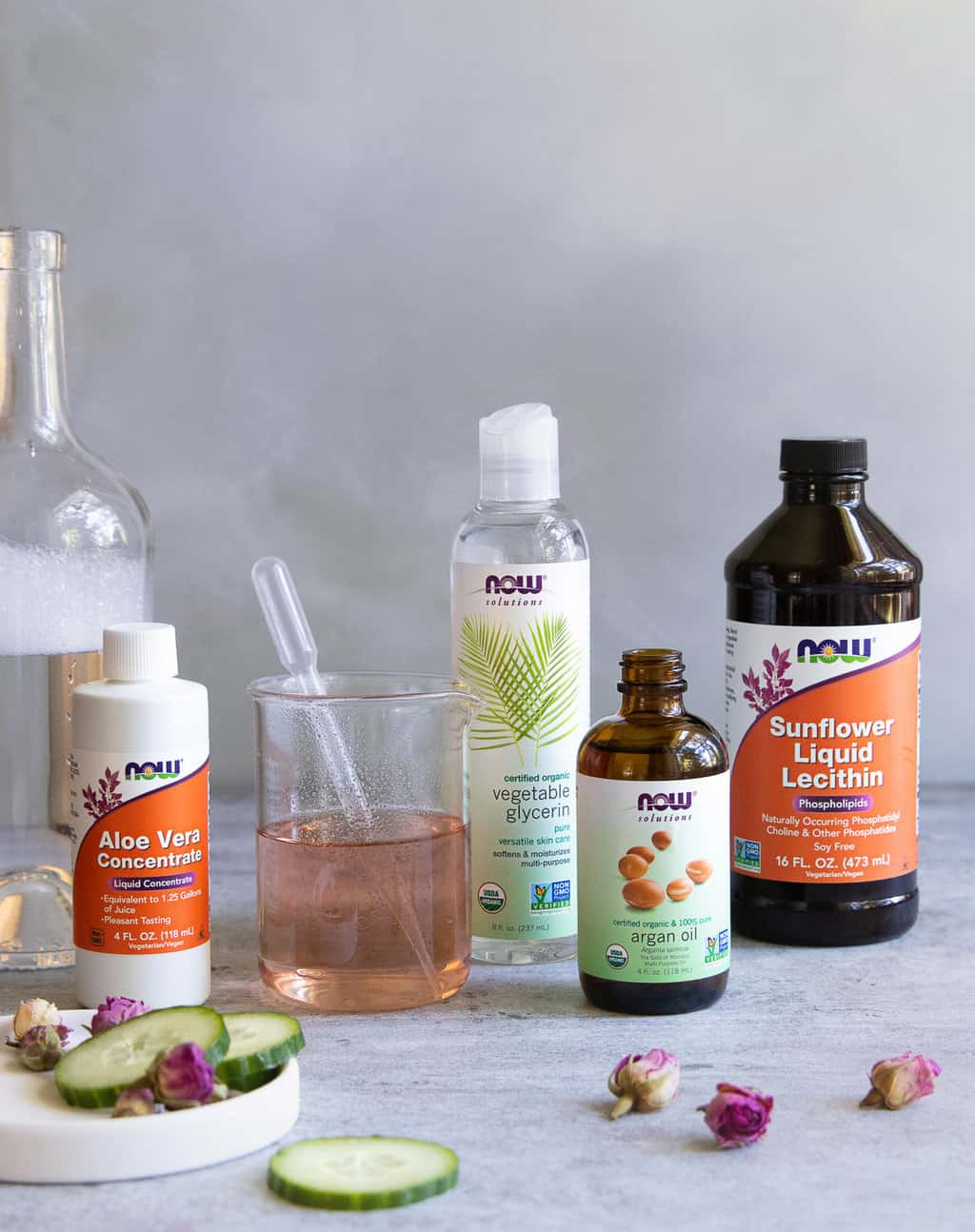 DIY micellar water ingredients
Rather than plain tap water, I used gentle, pH-balanced rose water. Not only is it incredibly soothing and luxurious, but it's shelf stable, so you don't have to worry about your micellar water going bad in a couple of days. But if you would prefer to keep it simple, you can use filtered tap water. Just make sure to store it in the refrigerator and whip up a fresh batch every 3 to 4 days.
NOW Solutions® Vegetable Glycerin and Argan Oil add much-needed moisture, so your skin feels soft and dewy without being greasy. And as a bonus, argan oil makes a great moisturizer for hair, scalp, and nail cuticles, too. So if you've got some left over, you can use it to soothe, nourish, and protect hair and skin from the elements.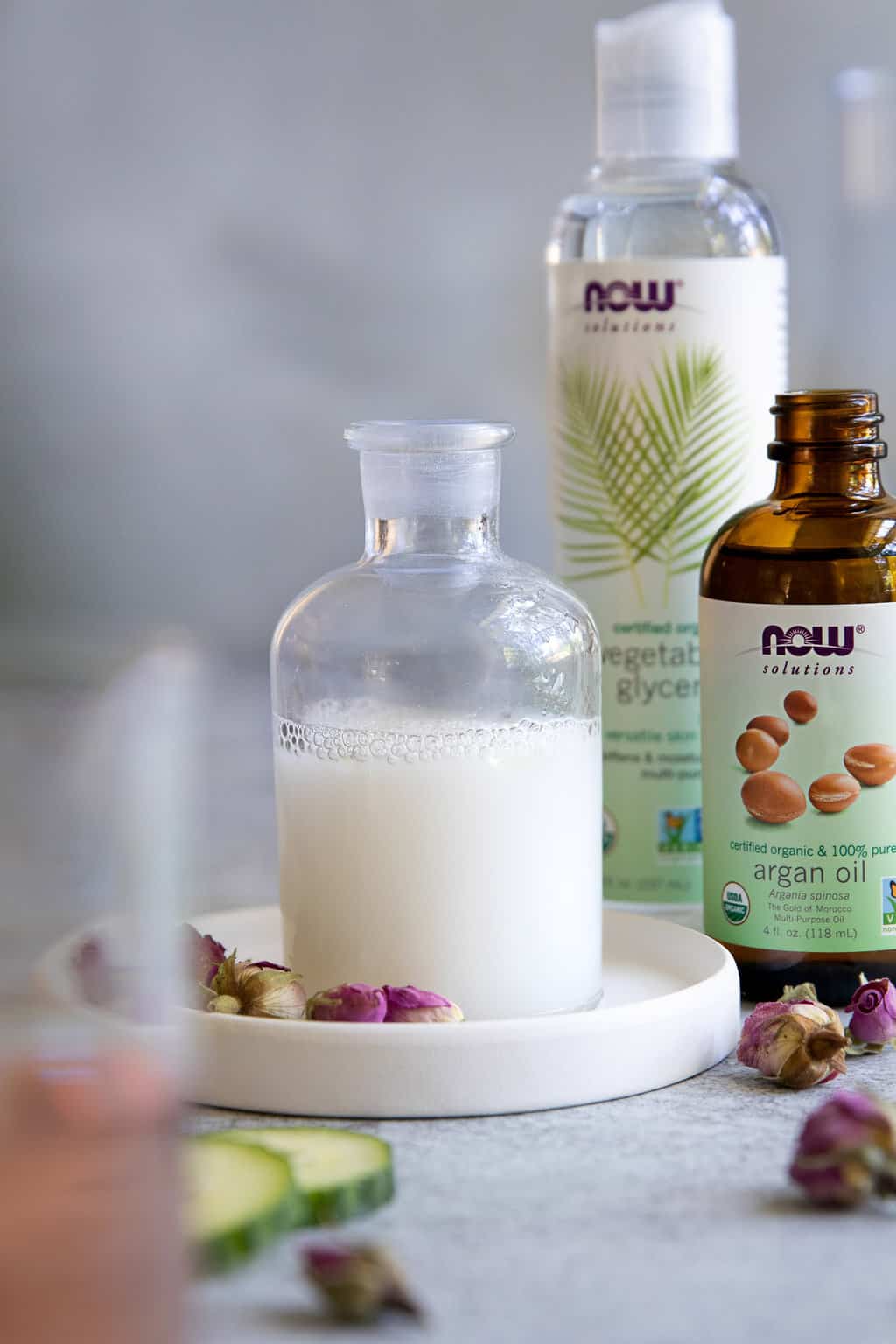 Cucumber seed oil and Aloe Vera Concentrate add skin-soothing nutrients. Cucumber seed oil is rich in antioxidants, essential fatty acids, and minerals, while aloe vera concentrate is high in polysaccharides, a natural compound in the skin that helps to retain water.
Lastly, NOW® Sunflower Liquid Lecithin acts as an emulsifier, so the oils and Castile soap blend with the rose water. I don't recommend skipping it, or your micellar water will have a layer of oil floating on the top instead of evenly dispersed throughout. Since you only need a little bit, you can use the leftover lecithin, which is a source of naturally occurring choline, in smoothies.
How to Make Micellar Water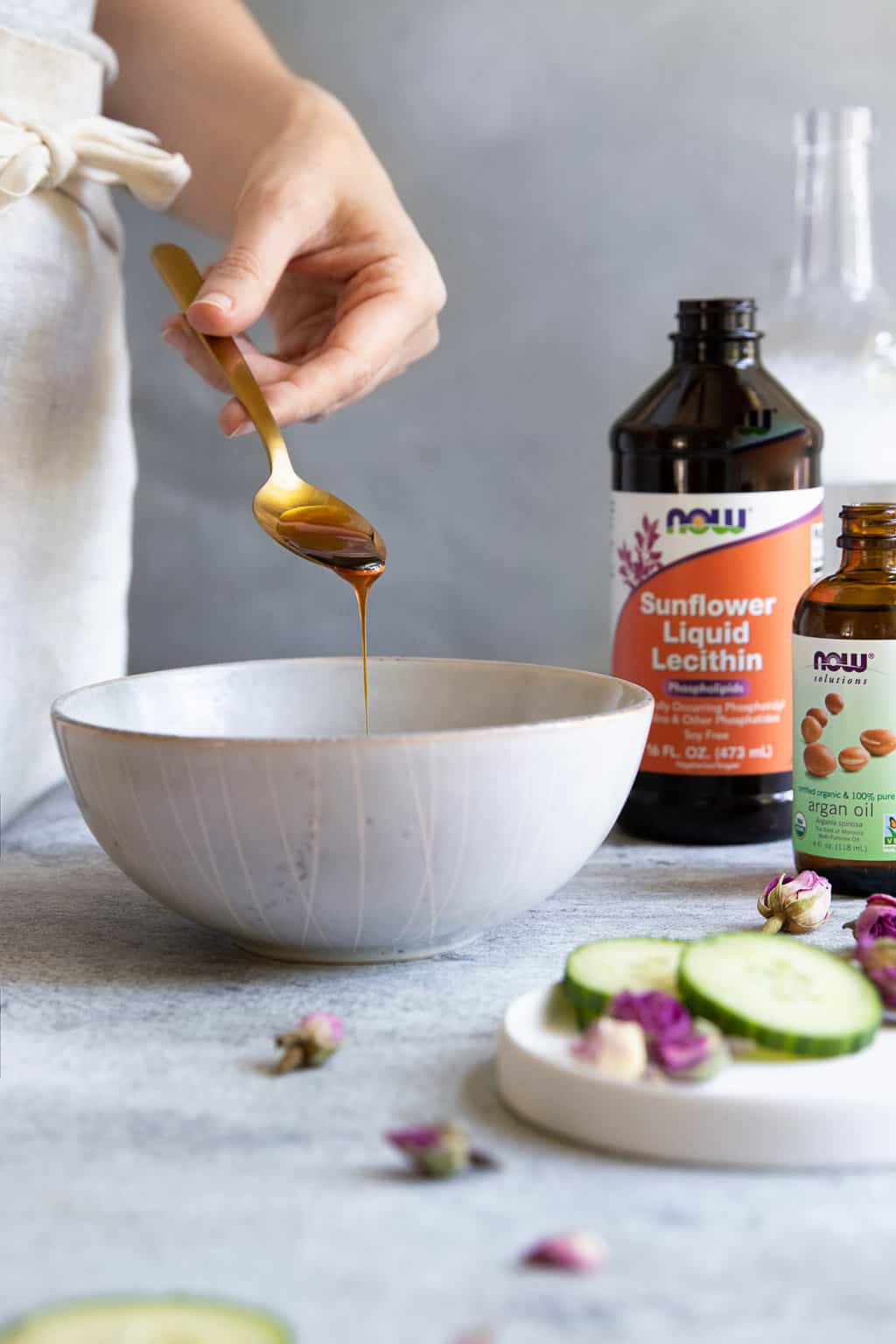 Step 1 | Combine rose water and lecithin
Pour 2 ounces of rose water into a small bowl and microwave it for about 30 seconds. You want it to be warm to the touch but not so hot that it burns you or damages the rose water.
Add the liquid lecithin and stir until dissolved. This may take a while, but I found that using a handheld milk frother helped speed things up.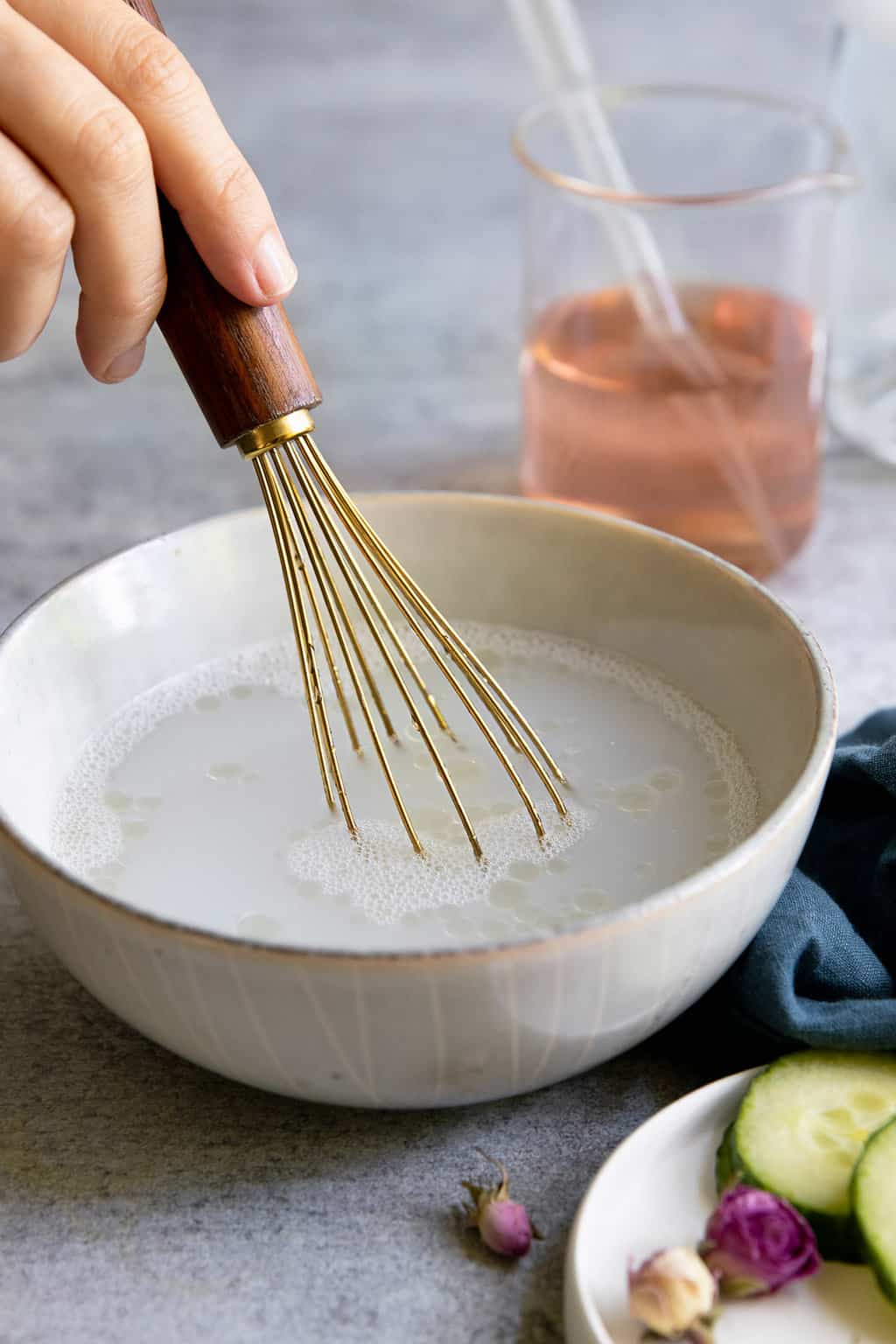 Step 2 | Stir in remaining ingredients
Add the rest of the rose water and the vegetable glycerin, cucumber seed oil, argan oil, Castile soap and aloe vera concentrate. Whisk well to combine.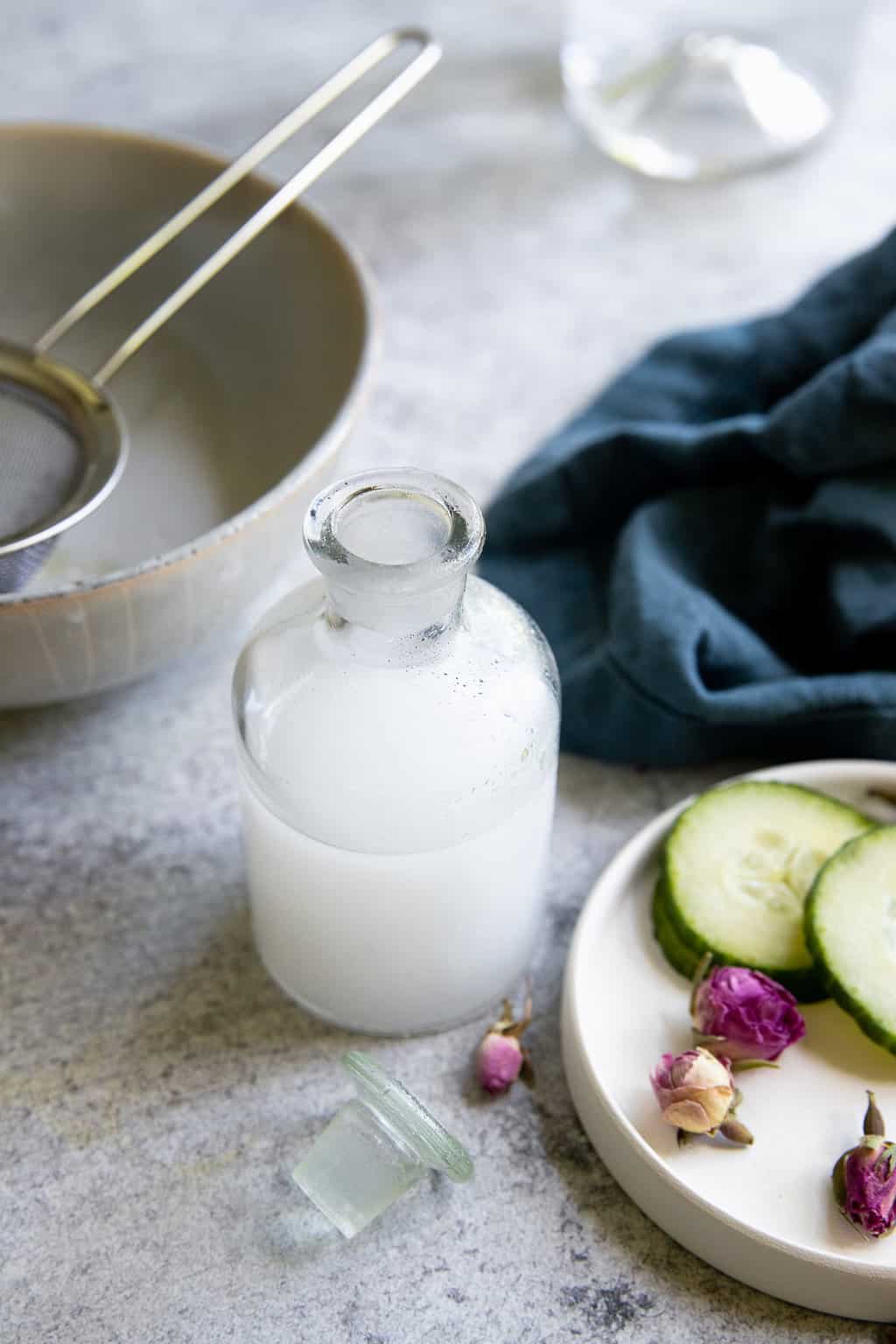 Step 3 | Transfer to glass jar

Pour the mixture through a fine-mesh strainer to remove any undissolved lecithin particles and transfer it to an airtight glass jar. If it takes you a while to use up all of your micellar water, make sure to store it in an amber bottle to prevent it from going bad.
Store your micellar water in a cool, dry place, and use it within 3–4 months.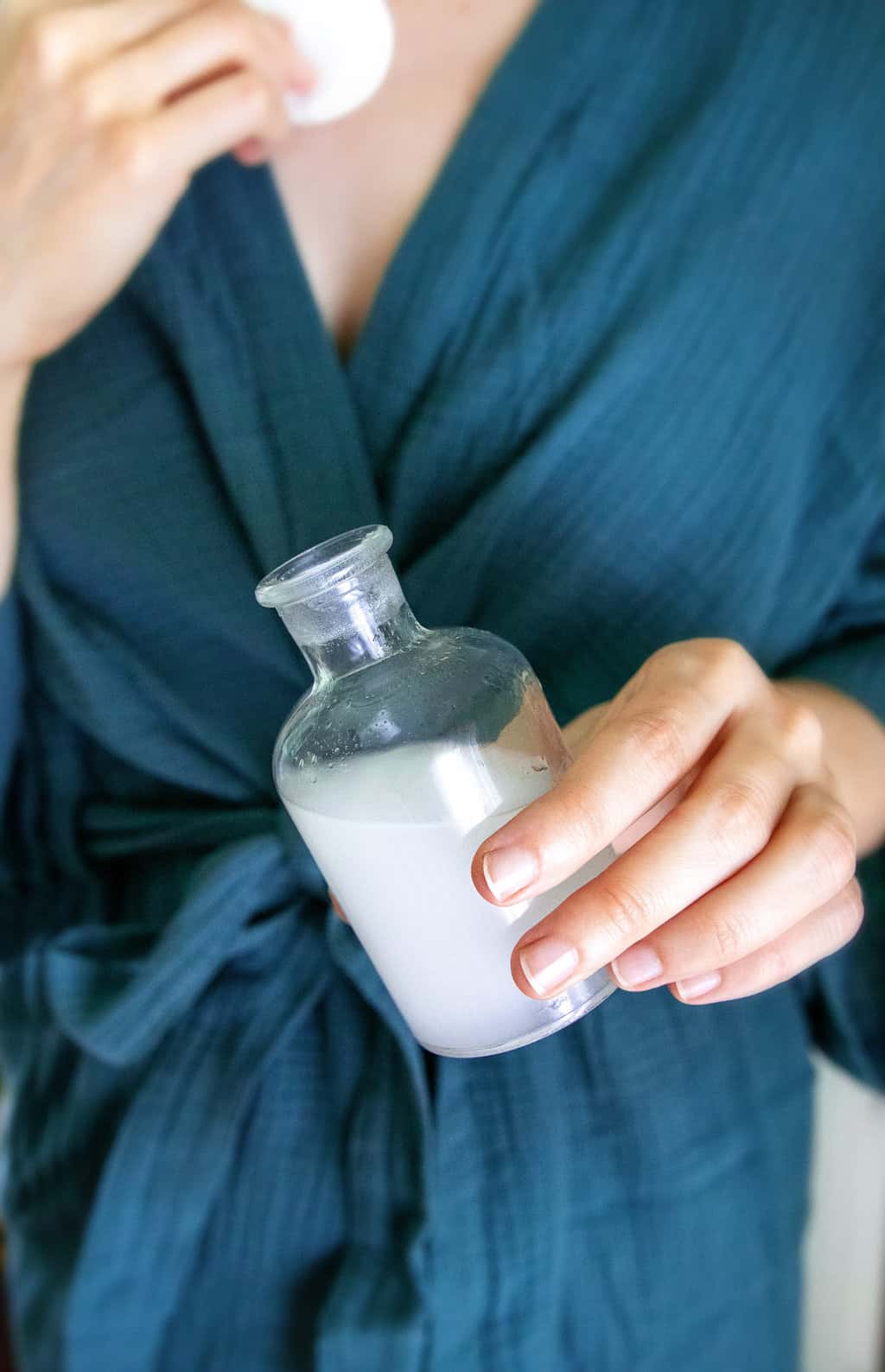 Step 4 | Using micellar water
While there are many uses for micellar water, if you plan to use it as a facial cleanser, all you need is a cotton round or cleansing cloth.
Shake the bottle and pour a bit of micellar water onto your cotton round. Gently smooth the cotton round over your eyes, lips, and face. Do not rub or tug on your skin.
Let your skin air dry (no need to rinse!), and follow up with any additional serums (like NOW® Solutions Hyaluronic Firming, Bakuchiol Skin Renewal, or Dark Spot Correcting) or any of your other usual skincare products (like NOW® Solutions Blemish Clear Spot Serum).
If your skin is extra dry, feel free to moisturize with a NOW Solutions Nourish Facial Oil at night or Hyaluronic AM Moisturizer in the morning.
You can also use your micellar water as:
— A gentle makeup remover
— An everyday face wash
— An all-over facial toner
— An on-the-go moisturizer and skin refresher
— A makeup brush cleaner
Bonus: keep your micellar water in the fridge and say goodbye to tired, puffy eyes and irritated skin.
Homemade Micellar Water Recipe
Homemade micellar water with rose water, aloe and glycerin. It sweeps away dirt and makeup in one rinseless step — and it's gentle enough to use around the eyes!
Yield: 8 ounces
Author: Stephanie Pollard
Equipment
Fine mesh strainer

8-ounce glass bottle with an airtight cap (use an

amber bottle

for long-term storage)

Small bowl

small funnel optional